first time authors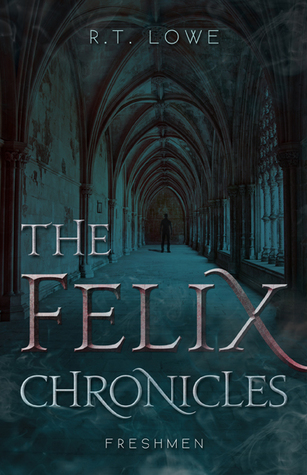 Reeling from a terrible accident that claimed the lives of his parents, Felix arrives at Portland College hoping only to survive the experience. In time, however, his reality star roommate shows him there is more to higher education than just classes, shared bathrooms and bad dorm food, and Felix gradually dares to believe he can put his past behind him. But a fateful storm looms on the horizon: In the nearby woods, two hikers become the latest victims in a series of gruesome murders; a disfigured giant embarks on a vicious cross-country rampage, killing teenagers who fail his 'test'; and an ancient society of assassins tasked with eradicating the wielders of a mysterious source of power awakens after a long silence. Only one man–the school's groundskeeper–knows that the seemingly unrelated events are connected, and that an eighteen-year-old boy stands in the center of the storm.
……………………………………………………………………………………………………………………………….
My Review
Felix enters his first year at Portland College like any other 18 year old, as a star player on the football team, dorm mates with Alison, his best friend and with his new reality star roommate, Lucas. However, being the the soul survivor of a house fire that killed his parents, having hallucinations of people trying to kill him and being able to move things with his mind makes him anything, but normal.
As Felix's freshmen year begins to unfold we begin to understand several different components are going to come into play. A serial-killer called "Faceman," is running up and down the the west coast abducting 18 year old's and then shooting them in the face. In a local forest near Portland College, hikers and hunters are disappearing at an alarming rate and the corporate monguel, Lofton, seems to have more to do with it than we think.
This book is what I would call a cross between the Percy Jackson series and Harry Potter. While the story may be familiar, the voice is new. Being a new adult novel squarely places it out of the juvenile range with it's language and some of its more mature content. While the new situations are humorous, I can't help but be nostalgic for the reflection of innocence from the age we all believed in magic. *Sigh!* That is not to say this story is any less. NO! The characters then take on a new life-like quality making the story that much more entertaining.
As the story continued to unfold, new story lines were introduced that kept me guessing until the very last page. Hell, I'm still questioning!? This was an aspect of this book that I loved. It kept me on my toes. And I'm positive the "Felix Chronicles: Year Two" will not only do the same, but blow me away. I absolutely cannot wait for the second book in this series! Prepared to be entertained to the max!
-JL
This entry was posted in Fantasy, New/Establishing Authors, Review and tagged Contemporary Fiction, Fantasy, first time authors, Mystery, NA, New Series, reality star roommate, Review, submissions, Suspense.
In another Century and a half, the world, as we know it, will be greatly
changed. This book foresees changes that most of us could scarcely
dream of. It imagines a world where current international tensions
have mostly dissolved, where continental solidarity has supplanted most national boundaries, and where global warming has actually abated. It is a time when space exploration is of prime importance and when robotically operated stations exist on our own Moon and on Mars and Venus..
But several traditional earthly problems have not been resolved. One of these is the periodic emergence of infectious diseases that (by means of insidious mutations) have evaded all modern efforts to prevent or control them. Enter Q-strain, an astoundingly pernicious mutation of Ebola virus which, over the period of a few years, totally wipes out all humans on the Earth. There is time, however, in the interim, to transport the very earliest
stage (blastocysts) of the clones from many very accomplished humans to the robotic station on the Moon. (These clones had been acquired years before the epidemic and stored in suspended animation in liquid hydrogen).
Roughly a century later, when the "all clear" for absence of the Ebola Q-strain mutant on the Earth has been biologically verified, these "celebrity clones" are given birth on the Moon and raised to adulthood by robotic guides and caretakers. The story then centers on the development of fourteen spirited "celebrity clones" who must find ways to realistically coexist, and then to ultimately return a human presence to our now Ebola-free blue planet. This sounds like quite a challenge, and in fact, that's just what it is.
……………………………………………………………………………………………………………………………………………….
My Review
"Moonkind: Survivors of Ebola" begins by setting up Earth in 2173 AD. A lot has changed, but the American way of life seems to have been unaffected. In chapter one, we are introduced to Thompson, our first hero and main character, who has the opportunity of a life time to go and work on the Moon for two years! His wife, Ilona, doesn't see this opportunity quite as exciting as he does, but he goes nonetheless.
As Thompson works on the Moon, we follow various characters gathering bits and pieces of what is to come.
Ilona reads a strange article in the news about children in Africa dieing of heart attacks.
The Bioscience Working Group of the WHO's Infectious Disease Task Force debates the best way to preserve humankind from the deadly Q-strain of Ebola.
Two individuals, Jonas Leitner, a prominent scientist, and Jackie LaForge, famous singer, give their DNA samples to be cloned. Jonas is strongly advised by The Conservancy Board to be cloned and Jackie receives the opportunity as a mere Christmas gift from a well-off friend.
Then, after 9 chapters, we come back to Thompson and his crew working on the moon. They receive the shocking news that their mission has been extended indefinitely and they are now charged with the task of developing a self-sustaining station for human clones to be born, raised and educated. The hope is for these clones to represent a variety of the worlds genetic material and eventually repopulate the Earth.
*One problem, if clones are infertile…how are they going to repopulate the Earth? I kept reading despite my confusion.
Eventually, the crew, including Thompson, die and we our left with omnipotent narration until the first group of clones are born.
When I began this book, I felt like I was reading a news broadcast. The story was unfocused. Early in the book, the point of view was divided amongst several different characters and it left the plot unclear and difficult to entertain.
The book begins with the point of view of Thompson in chapter 1, then moves to Ilona in 2, the WHO's Infectious Disease Task Force in 3, another group of scientists in 4, WHO again in 5, Jonas and Jackie in 6-8, and then finally it comes back to Thompson in 9. However, by the time we reach chapter 9, so many subplots have been introduced we are left confused and wondering which will be developed? Are we going to follow the progression of the disease on Earth, the exposure of the group of scientists in Antarctica, Ilona's life without Thompson, or maybe the development of Jonas and Jackie's relationship? Had the story developed a clear plot before shifting perspective I believe this book would have been more gripping.
The general lack of direction made it difficult to become invested in the story. The author continued to struggle with point of view and motivation throughout the book; until we reach chapter 19 when a faint glimmer of a hero finally emerges from the first group of clones. However, it isn't until chapter 48 I was able to find some plot clarity and am able to invest in the story and the characters prepare for their trip back to Earth.
How did I feel about the book? It was like walking barefoot on hot sand trying to get to civilization. I wanted to speed through to get to the point of the story, but I just kept reading one piece of the story after the other without conclusion. The subplots and minor themes were an unraveled mess and distracted me from the further development of Raddix, our main character. I could see the author's point, he wanted to make his readers aware of the type of environment these humans were experiencing and how the idiosyncrasies of human behavior still apply. However, I feel this could have been done with more precision by focusing the reader's point of view.

About the Author:
Bruce Merchant, M.D., is a Research Physician in the Immunology and Pathology of Human responses to tumors and infectious diseases. Bruce also holds a doctorate in Immunopathology from the University of Chicago. He was a lab researcher at the National Institutes of Health for a decade and then continued his research in Immunology, and Immunogenetics at the FDA for a second decade. He then moved mainly into Clinical Research and served first as the Director of Clinical studies at Hybritech, Inc. and later as Clinical V.P at Viagene, Inc. both Biotech companies in San Diego, California.
He then teamed up with James A. Taylor, Ph. D, to whom this book is dedicated. Together, they formed Merchant-Taylor International, Inc. (MTI), a consulting firm that over the past two decades has assisted over 200 Biotech and Small Pharma companies in moving their products forward through successive phases of Clinical Development.
Bruce still works full time in this consulting capacity. Many of MTI's clients are developing therapies aimed at controlling infections or malignant tumors, and Bruce serves as the Clinical Monitor for several of these studies. He is also involved with two separate Clinical Studies, one which involves the use of Convalescent Immune Plasma (from Ebola survivors) and another employing a number of promising new pharmaceuticals which will be critically tested in Ebola patients in West Africa in an effort to control the current deadly epidemic.
This entry was posted in Review, Science Fiction and tagged end of the world, first book, first time authors, New Series, postapocalyptic, sci-fi, Science Fiction.
Meet Lily Wilder: New Yorker, lawyer extraordinaire, blushing bride. And totally incapable of being faithful to one man.

Lily's fiancé Will is a brilliant, handsome archaeologist. Lily is sassy, impulsive, fond of a good drink (or five) and has no business getting married. Lily likes Will, but does she love him? Will loves Lily, but does he know her? As the wedding approaches, Lily's nights—and mornings, and afternoons—of booze, laughter and questionable decisions become a growing reminder that the happiest day of her life might turn out to be her worst mistake yet.
Unapologetically sexy with the ribald humor of Bridesmaids, this joyously provocative debut introduces a self-assured protagonist you won't soon forget.
…………………………………………………………………………………………………………………………………………………………
Brilliant. Outrageously funny. Beautifully imperfect.
Lily Wilder is 20 something New York lawyer engaged to her wonderful archeologist boyfriend of 7 months. As we enter the week of her wedding, we witness the horrifying acts of Lily on her bachelorette party, Lily and her boss, Lily and her dry cleaner AND Lily and more than a few random bar hook ups. What is this chick doing getting married!? The story continues and we watch her struggle with the decision to get married or call off the wedding. While unscrupulous, Lily does present a conscious. It is this glimmer of guilt and regret that makes this story so gripping.
Some may consider this story to be appalling, I consider more as entertainment. So, I'm going to assess it as such. While Lily and Will's flaws lay bare and their relationship clearly romanticizes infidelity, it really isn't too far off from over dramatization of the rippling chests and multiple orgasms of other romance novels.
Understandably, I hated Lily. She did and said everything I have known deep in by bones to be wrong since I was born, but she made a very demanding lead character. Witnessing her inner conflict eased my judgment for the sake of entertainment. She captured my attention from page one and I did not want to stop reading!
The supporting characters in this story move the plot along flawlessly. Not once does the plot stall waiting for motivation. Freddy, Lily's ultimate BFF, is hilarious as she guides Lily through the final days before her wedding. She provides Lily a much needed reality check and more than enough levity for a sad situation. Next, are Lily's father's ex-wives. They provide the delightful wisdom of experience as they try to prevent Lily from deceiving Will into an untruthful marriage.
This book takes the saying "all's fair in love and war" to a whole new level. Can a relationship work after a "Cold War" such as Will and Lily's?  With multiple twists and turns along the way this book easily makes a readers head spin with anticipation.
I received this book from Blogging for Books for this review.
-JL
This entry was posted in Review, Romance and tagged Contemporary Fiction, first book, first time authors, NA, Review, romance.