reality star roommate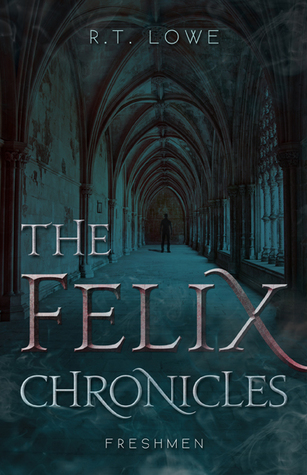 Reeling from a terrible accident that claimed the lives of his parents, Felix arrives at Portland College hoping only to survive the experience. In time, however, his reality star roommate shows him there is more to higher education than just classes, shared bathrooms and bad dorm food, and Felix gradually dares to believe he can put his past behind him. But a fateful storm looms on the horizon: In the nearby woods, two hikers become the latest victims in a series of gruesome murders; a disfigured giant embarks on a vicious cross-country rampage, killing teenagers who fail his 'test'; and an ancient society of assassins tasked with eradicating the wielders of a mysterious source of power awakens after a long silence. Only one man–the school's groundskeeper–knows that the seemingly unrelated events are connected, and that an eighteen-year-old boy stands in the center of the storm.
……………………………………………………………………………………………………………………………….
My Review
Felix enters his first year at Portland College like any other 18 year old, as a star player on the football team, dorm mates with Alison, his best friend and with his new reality star roommate, Lucas. However, being the the soul survivor of a house fire that killed his parents, having hallucinations of people trying to kill him and being able to move things with his mind makes him anything, but normal.
As Felix's freshmen year begins to unfold we begin to understand several different components are going to come into play. A serial-killer called "Faceman," is running up and down the the west coast abducting 18 year old's and then shooting them in the face. In a local forest near Portland College, hikers and hunters are disappearing at an alarming rate and the corporate monguel, Lofton, seems to have more to do with it than we think.
This book is what I would call a cross between the Percy Jackson series and Harry Potter. While the story may be familiar, the voice is new. Being a new adult novel squarely places it out of the juvenile range with it's language and some of its more mature content. While the new situations are humorous, I can't help but be nostalgic for the reflection of innocence from the age we all believed in magic. *Sigh!* That is not to say this story is any less. NO! The characters then take on a new life-like quality making the story that much more entertaining.
As the story continued to unfold, new story lines were introduced that kept me guessing until the very last page. Hell, I'm still questioning!? This was an aspect of this book that I loved. It kept me on my toes. And I'm positive the "Felix Chronicles: Year Two" will not only do the same, but blow me away. I absolutely cannot wait for the second book in this series! Prepared to be entertained to the max!
-JL
This entry was posted in Fantasy, New/Establishing Authors, Review and tagged Contemporary Fiction, Fantasy, first time authors, Mystery, NA, New Series, reality star roommate, Review, submissions, Suspense.