Review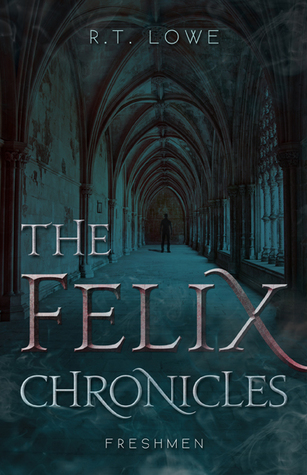 Reeling from a terrible accident that claimed the lives of his parents, Felix arrives at Portland College hoping only to survive the experience. In time, however, his reality star roommate shows him there is more to higher education than just classes, shared bathrooms and bad dorm food, and Felix gradually dares to believe he can put his past behind him. But a fateful storm looms on the horizon: In the nearby woods, two hikers become the latest victims in a series of gruesome murders; a disfigured giant embarks on a vicious cross-country rampage, killing teenagers who fail his 'test'; and an ancient society of assassins tasked with eradicating the wielders of a mysterious source of power awakens after a long silence. Only one man–the school's groundskeeper–knows that the seemingly unrelated events are connected, and that an eighteen-year-old boy stands in the center of the storm.
……………………………………………………………………………………………………………………………….
My Review
Felix enters his first year at Portland College like any other 18 year old, as a star player on the football team, dorm mates with Alison, his best friend and with his new reality star roommate, Lucas. However, being the the soul survivor of a house fire that killed his parents, having hallucinations of people trying to kill him and being able to move things with his mind makes him anything, but normal.
As Felix's freshmen year begins to unfold we begin to understand several different components are going to come into play. A serial-killer called "Faceman," is running up and down the the west coast abducting 18 year old's and then shooting them in the face. In a local forest near Portland College, hikers and hunters are disappearing at an alarming rate and the corporate monguel, Lofton, seems to have more to do with it than we think.
This book is what I would call a cross between the Percy Jackson series and Harry Potter. While the story may be familiar, the voice is new. Being a new adult novel squarely places it out of the juvenile range with it's language and some of its more mature content. While the new situations are humorous, I can't help but be nostalgic for the reflection of innocence from the age we all believed in magic. *Sigh!* That is not to say this story is any less. NO! The characters then take on a new life-like quality making the story that much more entertaining.
As the story continued to unfold, new story lines were introduced that kept me guessing until the very last page. Hell, I'm still questioning!? This was an aspect of this book that I loved. It kept me on my toes. And I'm positive the "Felix Chronicles: Year Two" will not only do the same, but blow me away. I absolutely cannot wait for the second book in this series! Prepared to be entertained to the max!
-JL
This entry was posted in Fantasy, New/Establishing Authors, Review and tagged Contemporary Fiction, Fantasy, first time authors, Mystery, NA, New Series, reality star roommate, Review, submissions, Suspense.
Meet Lily Wilder: New Yorker, lawyer extraordinaire, blushing bride. And totally incapable of being faithful to one man.

Lily's fiancé Will is a brilliant, handsome archaeologist. Lily is sassy, impulsive, fond of a good drink (or five) and has no business getting married. Lily likes Will, but does she love him? Will loves Lily, but does he know her? As the wedding approaches, Lily's nights—and mornings, and afternoons—of booze, laughter and questionable decisions become a growing reminder that the happiest day of her life might turn out to be her worst mistake yet.
Unapologetically sexy with the ribald humor of Bridesmaids, this joyously provocative debut introduces a self-assured protagonist you won't soon forget.
…………………………………………………………………………………………………………………………………………………………
Brilliant. Outrageously funny. Beautifully imperfect.
Lily Wilder is 20 something New York lawyer engaged to her wonderful archeologist boyfriend of 7 months. As we enter the week of her wedding, we witness the horrifying acts of Lily on her bachelorette party, Lily and her boss, Lily and her dry cleaner AND Lily and more than a few random bar hook ups. What is this chick doing getting married!? The story continues and we watch her struggle with the decision to get married or call off the wedding. While unscrupulous, Lily does present a conscious. It is this glimmer of guilt and regret that makes this story so gripping.
Some may consider this story to be appalling, I consider more as entertainment. So, I'm going to assess it as such. While Lily and Will's flaws lay bare and their relationship clearly romanticizes infidelity, it really isn't too far off from over dramatization of the rippling chests and multiple orgasms of other romance novels.
Understandably, I hated Lily. She did and said everything I have known deep in by bones to be wrong since I was born, but she made a very demanding lead character. Witnessing her inner conflict eased my judgment for the sake of entertainment. She captured my attention from page one and I did not want to stop reading!
The supporting characters in this story move the plot along flawlessly. Not once does the plot stall waiting for motivation. Freddy, Lily's ultimate BFF, is hilarious as she guides Lily through the final days before her wedding. She provides Lily a much needed reality check and more than enough levity for a sad situation. Next, are Lily's father's ex-wives. They provide the delightful wisdom of experience as they try to prevent Lily from deceiving Will into an untruthful marriage.
This book takes the saying "all's fair in love and war" to a whole new level. Can a relationship work after a "Cold War" such as Will and Lily's?  With multiple twists and turns along the way this book easily makes a readers head spin with anticipation.
I received this book from Blogging for Books for this review.
-JL
This entry was posted in Review, Romance and tagged Contemporary Fiction, first book, first time authors, NA, Review, romance.
Why would a 17-year-old girl pretend to be a high class escort?
Piper is a con artist whose canvas is the city of Las Vegas. She rolls with a crew of young grifters including a card-counting genius, a tourist-hustling pool shark, and a pocket-picking magician. Together, this crew of teenage outlaws live with their mentor Max in the penthouse of a hotel casino. They work hard and play harder. But unlike the others, Piper must balance her hyper-real Vegas fantasy with the reality of raising her 14-year-old half-sister Sophie. Disaster strikes when the Las Vegas mafia kidnaps Sophie and demands a multimillion-dollar ransom. With only five days to piece together the money, the crew races the clock to save her.
 ………………………………………………………………………………………………………………………………………
My Review
Piper is a 17 year old con-artist in Las Vegas living in a top floor penthouse in the Treasure Island hotel near the strip with 4 young con-artists, their mentor and surrogate father, Max, and her 14 year old sister, Sophie.
Piper and the rest of group work for Max by luring tourists from their money using various scams and in turn Max provides a place to live and coaches them in their respective trade. Piper works by exploiting men as a high-end escort. She seduces men into a hotel room and takes their money without providing any service. While her roommates spend their money on whatever their heart desires, Piper saves all her money so she can leave Las Vegas and give her sister a more normal life.
One evening, Piper comes home to a beaten and bloody Max, thousands of dollars missing and her sister kidnapped! The ransom demanded puts the group in a frenzy – can they con enough money to save her?
I enjoyed this book. While I believe the plot in this book, in one way or another, had been done, I was excited to see a twist with the main character being a young female. When I began reading, I had a distinct feeling of reading a fairy tale with the characters coming from nothing, finding Max and then having everything they could ever want. However, that feeling is short lived as the characters join together to bring Sophie home. The story had potential: a strong lead character, a love interest, internal conflict, external conflict, but falls short with supporting character development and overall execution.
The additional roommates and even Max himself fall seem like ghosts, appearing only to help further Piper's cause of rescuing her sister. Having an illustrated back story for the group would have helped the reader feel the familial relations rather than being told ("show don't tell.")
Which leads to my next point, execution. When writing a story with a twist or mystery, it is important to leave proper bread crumbs of foreshadowing and misleading clues to keep the reader guessing. Unfortunately, with this book the plot was a bit transparent.
I still enjoyed reading about the trials and tribulations as the group fought to collect $1,000,000 in 36 hours. It was exciting and well thought out. A promising beginning for Jason Mosberg.
-JL
This entry was posted in Mystery/Suspense, New/Establishing Authors, Review, YA and tagged Contemporary Fiction, first book, first time authors, Mystery, New Series, Review, romance, submissions, Suspense, Thriller, YA.