submissions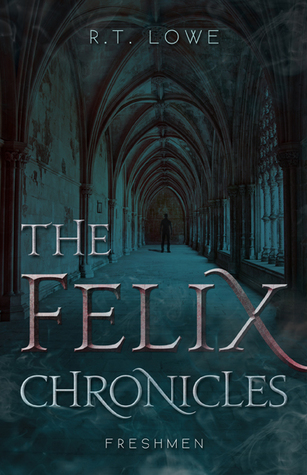 Reeling from a terrible accident that claimed the lives of his parents, Felix arrives at Portland College hoping only to survive the experience. In time, however, his reality star roommate shows him there is more to higher education than just classes, shared bathrooms and bad dorm food, and Felix gradually dares to believe he can put his past behind him. But a fateful storm looms on the horizon: In the nearby woods, two hikers become the latest victims in a series of gruesome murders; a disfigured giant embarks on a vicious cross-country rampage, killing teenagers who fail his 'test'; and an ancient society of assassins tasked with eradicating the wielders of a mysterious source of power awakens after a long silence. Only one man–the school's groundskeeper–knows that the seemingly unrelated events are connected, and that an eighteen-year-old boy stands in the center of the storm.
……………………………………………………………………………………………………………………………….
My Review
Felix enters his first year at Portland College like any other 18 year old, as a star player on the football team, dorm mates with Alison, his best friend and with his new reality star roommate, Lucas. However, being the the soul survivor of a house fire that killed his parents, having hallucinations of people trying to kill him and being able to move things with his mind makes him anything, but normal.
As Felix's freshmen year begins to unfold we begin to understand several different components are going to come into play. A serial-killer called "Faceman," is running up and down the the west coast abducting 18 year old's and then shooting them in the face. In a local forest near Portland College, hikers and hunters are disappearing at an alarming rate and the corporate monguel, Lofton, seems to have more to do with it than we think.
This book is what I would call a cross between the Percy Jackson series and Harry Potter. While the story may be familiar, the voice is new. Being a new adult novel squarely places it out of the juvenile range with it's language and some of its more mature content. While the new situations are humorous, I can't help but be nostalgic for the reflection of innocence from the age we all believed in magic. *Sigh!* That is not to say this story is any less. NO! The characters then take on a new life-like quality making the story that much more entertaining.
As the story continued to unfold, new story lines were introduced that kept me guessing until the very last page. Hell, I'm still questioning!? This was an aspect of this book that I loved. It kept me on my toes. And I'm positive the "Felix Chronicles: Year Two" will not only do the same, but blow me away. I absolutely cannot wait for the second book in this series! Prepared to be entertained to the max!
-JL
This entry was posted in Fantasy, New/Establishing Authors, Review and tagged Contemporary Fiction, Fantasy, first time authors, Mystery, NA, New Series, reality star roommate, Review, submissions, Suspense.
Why would a 17-year-old girl pretend to be a high class escort?
Piper is a con artist whose canvas is the city of Las Vegas. She rolls with a crew of young grifters including a card-counting genius, a tourist-hustling pool shark, and a pocket-picking magician. Together, this crew of teenage outlaws live with their mentor Max in the penthouse of a hotel casino. They work hard and play harder. But unlike the others, Piper must balance her hyper-real Vegas fantasy with the reality of raising her 14-year-old half-sister Sophie. Disaster strikes when the Las Vegas mafia kidnaps Sophie and demands a multimillion-dollar ransom. With only five days to piece together the money, the crew races the clock to save her.
 ………………………………………………………………………………………………………………………………………
My Review
Piper is a 17 year old con-artist in Las Vegas living in a top floor penthouse in the Treasure Island hotel near the strip with 4 young con-artists, their mentor and surrogate father, Max, and her 14 year old sister, Sophie.
Piper and the rest of group work for Max by luring tourists from their money using various scams and in turn Max provides a place to live and coaches them in their respective trade. Piper works by exploiting men as a high-end escort. She seduces men into a hotel room and takes their money without providing any service. While her roommates spend their money on whatever their heart desires, Piper saves all her money so she can leave Las Vegas and give her sister a more normal life.
One evening, Piper comes home to a beaten and bloody Max, thousands of dollars missing and her sister kidnapped! The ransom demanded puts the group in a frenzy – can they con enough money to save her?
I enjoyed this book. While I believe the plot in this book, in one way or another, had been done, I was excited to see a twist with the main character being a young female. When I began reading, I had a distinct feeling of reading a fairy tale with the characters coming from nothing, finding Max and then having everything they could ever want. However, that feeling is short lived as the characters join together to bring Sophie home. The story had potential: a strong lead character, a love interest, internal conflict, external conflict, but falls short with supporting character development and overall execution.
The additional roommates and even Max himself fall seem like ghosts, appearing only to help further Piper's cause of rescuing her sister. Having an illustrated back story for the group would have helped the reader feel the familial relations rather than being told ("show don't tell.")
Which leads to my next point, execution. When writing a story with a twist or mystery, it is important to leave proper bread crumbs of foreshadowing and misleading clues to keep the reader guessing. Unfortunately, with this book the plot was a bit transparent.
I still enjoyed reading about the trials and tribulations as the group fought to collect $1,000,000 in 36 hours. It was exciting and well thought out. A promising beginning for Jason Mosberg.
-JL
This entry was posted in Mystery/Suspense, New/Establishing Authors, Review, YA and tagged Contemporary Fiction, first book, first time authors, Mystery, New Series, Review, romance, submissions, Suspense, Thriller, YA.
College life can be tough…
For a junior pursuing a degree in English with no plans for his future, living in the present is far better than the alternative.
One morning he wakes up and embarks on an acid trip to the Boston Museum of Fine Arts with two of his friends.
A step outside reality might be the best way to come back down to earth…
Along the way, the three friends discover what matters most to them, and more importantly, that life is not so much about answers as it is about the exploration of the questions.
When the real world doesn't quite cut it, take a journey down the rabbit hole.
………………………………………………………………………………………………………………………………………………………….
Interview with the Author:
Ian Thomas Malone
It's a very natural process for me. When I get an idea, I let it grow until it's ready to come out.
Which novelists do you admire?
Many. William Faulkner, Kurt Vonnegut, Philip K. Dick, Vladimir Nabokov, P.G. Wodehouse, and George R.R. Martin are a few of my favorites. From a contemporary standpoint, I have a lot of respect for Rainbow Rowell's style and ability to market her work.
What inspired you to write such a unique "coming of age" book?
The fact that it was unique! That can be hard in today's market. I wanted to write a coming of age story that felt refreshing.
You are still early in your writing career; what do you see for yourself in the next year?
I start grad school in September so I'm still figuring out how I'll incorporate my writing into that. I have some shorter projects that I hope to work on as well as some finished work that hasn't been published yet.
What is your favorite genre to write/read?
I bounce around. I almost never read consecutive books from the same genre. I do have a soft spot for reading fantasy as well as writing from the Beat generation. As far as writing goes, most of my work is contemporary. I have plans to expand into other genres in the future, including a sci-fi epic!
Who is your target audience?
I'd say I write for a younger audience, but I've found that my writing resonates well with older generations. Reviewers have noted that I have an "old soul." I hope that's true!
What is your biggest challenge when writing?
It's harder to drown out what's going on in your life, especially now that I have multiple books out. We've all got other things to worry about, which makes staying on track all the more difficult.
What habits do you employ to be a successful writer?
Set (realistic) deadlines for yourself. That encourages me to stay on track. By now I know what I'm capable of doing in terms of word counts and scheduling so it's usually a matter of maintaining the structure required to actually get it done.
What advice can you offer an aspiring writer?
Enjoy the process. Writing a book is hard, especially your first book. You'll get frustrated. You'll feel self-doubt (that doesn't go away). If you're writing a book, it's presumably because you enjoy writing. Don't forget that even when the times are tough.
………………………………………………………………………………………………………………………………………………………….
My Review
I was skeptical reading a book about a person "planning" an acid trip with a couple of friends…do I really want to read about someones first hand experience on a hallucinogen? I kept picturing Paul Rudd and Seth Rogen in "Knocked Up" the movie, ingesting shrooms in Vegas while watching Cirque Du Soleil…I didn't know if I want to read that…? However, I have had little success in resisting a "coming of age" story, especially one with a unique premise.
Our main character is a young man in his junior year of a college in Boston. He wakes up one morning…
"Misery. Pure misery. Mixed in with just a dab of hatred for life. That just about describes how my Saturday morning began. I'm not entirely sure what I consumed last night, but the wonderful combination seems completely irrelevant now that I'm facing the consequences of my actions."
Grabbing? Check. Relatable? Check. Realistic? Check. You've got me reading. As I continue reading it is evident that our young English major is not only in pain from his previous nights adventures, but is starting to feel the pressures of adulthood. In effort to jump start his creative muse and relax in his own skin, he and his friends, Charles and James, have planned to ingest acid, attend the Museum of Fine Arts and then The Lion King movie. As our narrator fumbles through the fog of the groups high, he periodically finds himself pondering his purpose in life.
What starts as an edgy young adult coming of age tale, transgresses into a simple account of someones day. As far as adventure, the most exciting events consist of one friend pretending to be tour guide and a the failed attempt at picking up the hot museum attendant. The adventure continues as Malone describes each wing of the museum, followed closely by the hallucinated version and finally any coherent dialogue between the characters fill the gaps.
The author fails to deliver on a few key elements, specifically "show, don't tell." As a reader, I became cross eyed with the amount of explanation given for each thought and action. I can appreciate the creative reach Malone attempted, but I believe he fell short.
This entry was posted in New/Establishing Authors, Review and tagged Contemporary Fiction, first time authors, Guest Post, submissions, YA.